3D Printing in the Automotive Industry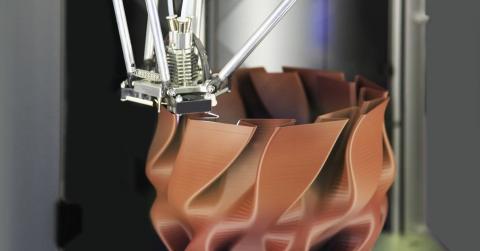 Although the technology is about 30 years old, 3D printing has become more defined in the past couple of years, especially in the automotive industry. It is important to highlight the differences in terminology between 3D printing, additive manufacturing, and rapid prototyping.
The terms 3D printing and additive manufacturing are synonyms for the same process, like interchanging the words 'automobile' and 'car'. Both terms reference the process of building parts by joining material layer by layer from a CAD file. In other words: 3D printing/additive manufacturing is the process, and rapid prototyping is the end result.
For the past few decades, 3D printing in the automotive industry was primarily used by carmakers to create automotive prototypes to check their form and fit. One of the first technologies that were used for building parts was selective laser sintering, or binder jetting. This allowed automakers to create aesthetically pleasant parts, but they were weak and could not be used for long periods. According to engineering.com, there are more robust technologies for automotive 3D printing today, such as fused filament fabrication (FFF), which can be used not only for the production of prototypes but also for end-use parts.
3D printers are creating complex car parts, speeding up tooling cycles, enhancing measurement and testing, and providing customization solutions across all aspects of the vehicle development process. Whether using fused deposition modeling (FDM) to create new tooling for short-run testing or production parts, customizing vehicle interiors, or making measurement and production devices such as jigs, the automotive industry is increasingly turning to 3D printing to manage tight production cycles and cut costs.
 
Ways 3D Printing is Transforming the Automotive Industry
3D printing allows designers to try multiple options of the same detail and iterations during the stages of new model development. It results in efficient designs and flexibility in making changes in design throughout the process of model evaluation. In turn, this helps auto manufacturers stay up to date with market needs and stay ahead in the field.
Flexible, Optimized Design: One of the key benefits of early-stage vehicle design with the assistance of a 3D printer is the ability to start small and scale up rapidly — well before assessment or the part reaches the assembly line. One example of that capability can be found at Bentley Motors Ltd. Nearly every detail of a future production vehicle is first created in miniature. The 3D process empowers designers to test multiple forms and a variety of practical functions, bringing them closer to a final design much more quickly.
Fast Customization Via 3D Printing: Customizing vehicles, especially when it comes to interiors, is a costly endeavor for automakers. Mass production of a particular automotive feature in low-volume vehicles often proves too expensive for original equipment manufacturers (OEM) to justify. But 3D printing automotive parts offers an economical solution to carmakers looking to provide an array of trim options for customers.
Functional Testing: Using 3D technology isn't just a way to confirm what designers believe will work. It can also reveal what isn't working, well before a part of a whole assembly goes into production. By having the ability to see what works and what doesn't, automakers have the ability to make the necessary changes that otherwise would have added cost and time delays, or could have hampered fit and finishes.
 
Advantages of 3D Printing in the Automotive Industry
Printing solutions for the automotive industry provide benefits that can be easily evaluated in terms of performance characteristics.
3D printing can replace expensive and long lead time CNC production, a process in which pre-programmed computer software dictates the movement of factory tools and machinery. 3D printed car parts are cheaper and their production time in-house is shorter. This means reductions in production costs, especially when dealing with the manufacturing of complex bodies.
In-house 3D printing and additive manufacturing can also help to control Intellectual Property (IP) infringements or information leaks as everything is produced on company premises. 3D prototyping can also significantly reduce turnaround times across all stages of manufacturing, allowing for more agility.
3D printing for automobiles allows the benefit of lower labor costs for companies. Unlike traditional manufacturing where many different people may be required to operate a number of machines, 3D printing removes all of this. Each 3D printer will require an operator to start the machine before it begins an automated process of creating the uploaded design. Therefore, the labor costs are significantly lower as there is no need for skilled machinists or operators to form part of the process.
Another advantage of printing tools in-house is that the engineers no longer have to deal with the purchasing department, meaning less paperwork and fewer headaches. Engineers can get on with doing what they do best: engineering!
 
3D Printing is Only Getting Started
The automotive sector has long been one of the most fast-paced and complex industries, but the industry arguably has never faced more challenges or very promising opportunities as it does today. A host of obstacles — from the demand for vehicle electrification to diverse consumer preferences to tighter environmental regulations — all have contributed to tightened vehicle production schedules and shortened vehicle life cycles. These pressures require creative approaches to speed up the design process and increase quality, all while cutting costs.
3D printing, or additive manufacturing, is just the beginning, proving vital in design studios and factory floors alike. This cost-effective solution is critical for the automotive industry. Time is money, so the ability to produce quality tools on time, and iron out any bugs in a timely manner, is paramount.