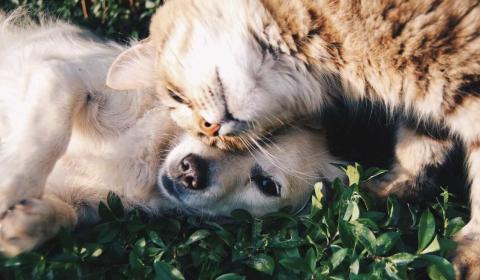 A-Abana is in the business of providing quality coverage for drivers, but we also know there are other things in life considered precious enough to protect.  That's why homeowners insurance exists for your prized belongings and health insurance for you and your loved ones.
 
So it's no surprise that many pet owners have become curious about protecting their furry friends. In the past few years, the insurance industry has seen a growing number of pet insurance plans and providers.
 
Since pet insurance is still new to many people, we will walk you through how it works and if it's worth the investment.
 
What is Pet Insurance?
Pet insurance policies reimburse you for covered medical and surgical expenses if your pet has an accident or becomes ill. Unlike human healthcare, there are no in-network regulations to follow. Instead, you can take your pet to any licensed veterinarian in the country.
 
Although it's a variation of human health insurance, pet insurance coverage is not factored into your visit in the same way. Instead, this type of insurance will reimburse you after your pet has received care. This means you have to pay your bills at the vet and then get reimbursed by your pet insurance provider later.
 
This process sounds complicated, but it's fairly simple:
When you take your animal to the vet, you pay the bill that day
Submit your receipt and claim to your insurance provider
Once your claim is approved, you will receive a reimbursement check from your insurance company
 
A few pet insurance providers allow you to customize your deductible, reimbursement rate, and annual limit. Some pet insurance companies will even reimburse up to 90% back on your pet's medical costs. For example, if you have a policy with 90% reimbursement, you could receive back $900 back on a $1,000 vet bill. 
 
Pet Insurance Benefits
Pet insurance providers offer coverage if your pet gets in an accident or becomes ill (or both, depending on the plan you choose!).
 
Most companies offer coverage for things like:
Surgery
Vet-prescribed medications
X-rays or MRIs
IV fluids
Chemotherapy
Annual exams
Vaccines
Flea medication
 
Remember that these are all contingent on the type of plan you choose for your pet. To help you choose a plan that works for you our friends at Prudent Pet created an easy-to-understand breakdown of what is covered with pet insurance.
 
Should You Buy Pet Insurance?
If you are looking for coverage for everyday expenses, pet insurance may not be for you. Pet insurance provides peace of mind in case of emergencies, not monetary assistance for common expenses such as:
Boarding
Grooming
Training
Breeding
 
Some pet owners are also disappointed to learn pre-existing conditions are not covered. Unfortunately, this is true across the board in the pet insurance industry. That's why you should get your pet covered while they are young or still healthy.
 
Overall, we think pet insurance is an excellent investment — especially if you are a pet owner that stays up-to-date on wellness checks and vaccines. Every pet owner has experienced an emergency with their animal. Whether it was life-threatening or not, we have all felt the burden of an unexpected and expensive vet bill.
 
In a lot of ways, pet insurance is like auto insurance: you can take every measure to stay safe, but you never know when something unexpected will happen.