How to Spot A Flood Damaged Car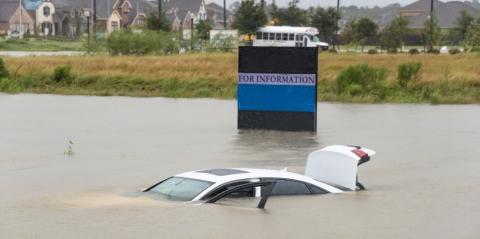 Within the past month, the destruction left in the wake of Hurricane Harvey and Hurricane Irma has incurred significant personal and infrastructural damage across major portions of the southern and southeast coast of the United States. Cumulative damages from the category four and five storms have been estimated to cost around $290 billion (in combined private and government sector costs), without even accounting for the over 40,000 homes that were lost in the path of Harvey's devastation. The resultant flooding has destroyed as many as a million cars in the Houston area, more than other natural disasters in U.S. History, leaving residents to confront the new reality of commuting and navigating the city without a vehicle. The Houston area has an average vehicle rate of 94.4%, exceeding the total average of US drivers at 91%. According to U.S. Census Bureau, Houstonians own and rent up to nearly 1.3 million vehicles in the city.
 As evacuees settle back in the city and begin the process of rebuilding, one unfortunate side effect in the wake of Harvey's path is a surplus of flooded vehicles being shipped and sold to unsuspecting buyers upstate. To prevent unsuspecting shoppers from being ensnared in duplicitous purchases, here are some key tips to keep in mind so that you're not on the receiving end of a flood-damaged vehicle. After any major flooding event that incurs vehicle damage, flood-damaged vehicles are often shipped to another area, flipped as either refurbished used vehicles or recycled for parts.
The National Automobile Dealers Association (NADA), which for the past hundred years has represented over 16,500 franchised car and truck dealerships across the country, has created a list of 10 best-practice inspection suggestions to enable shoppers with the knowledge and means to assess vehicles to avoid being deceived.
1. Check a vehicle's title history using the National Insurance Crime Bureau's VinCheck, the National Motor Vehicle Title Information System or a commercially available vehicle history report service, such as Experian or Carfax, etc. Reports may state whether a vehicle has been damaged by any recent flooding.
2. Examine the interior and the engine compartment for evidence of water and grit from suspected submersion.
3. Check for recently shampooed carpeting.
4. Look under the carpeting for water residue or stain marks from evaporated water not related to air-conditioning pan leaks.
5. Inspect for interior rust and under the carpeting, and inspect upholstery and door panels for evidence of fading.
6. Check under the dash for dried mud and residue, and note any mold or a musty odor in the upholstery, carpet or trunk.
7. Check for rust on screws in the console and in other areas water would normally not reach unless the vehicle was submerged.
8. Look for mud or grit in alternator crevices, behind wiring harnesses and around the small recesses of starter motors, power steering pumps, and relays.
9. Inspect electrical wiring for rusted components, water residue or suspicious corrosion.
10. Inspect other components for rust or flaking metal not normally found in late model vehicles.
Other Best-Practice Tips To Keep in Mind
Flood damage is easier to conceal from an untrained eye than one might think. While damage from a crash is more prominently visible from the outside, excessive flood damage more dramatically impacts the interior of a vehicle, particularly a car's engine, and essential ignition components. Flooding can destroy a car's electronic system, affecting not only that vehicle's entertainment system but key safety features such as airbags and antilock brakes. Remember: It is not illegal to sell or purchase a flood-damaged vehicle. However, it is illegal to sell a vehicle with flood-damage to a buyer who is unaware of the car's prior history of damage. Follow these tips with sound judgment and you'll be able to avert the burden of being swindled out of a functioning vehicle