Tips for a Road Trip in Texas and Nevada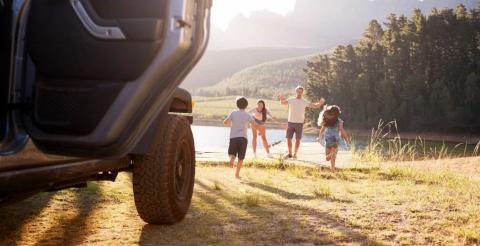 Hitting the open road for adventure can be exhilarating, but also overwhelming. That's why we've compiled a list of our favorite traveling by car tips to help you enjoy your next highway getaway and make it the best road trip ever.
 
1. Do Your Research 
Figuring out where to go can be the hardest decision when it comes to road trips. If you are not sure where you'll be traveling on Memorial Day, we have some great suggestions for you.
First, take the time to look at some travel blogs. Scour websites like the Travel Channel for some great inspiration, or ask friends and family members for recommendations. Once you know where your final destination will be, do some extra research so you can get an idea of all the options for pit stops and begin to make a general plan.
Make sure you've got your basic route worked out, your A to B, but don't have every single mile written in stone. It's important to leave room for the unexpected turns, the snap decisions, and the "I wonder what's down there?" moments.
If after some research you're still unsure where to go, keep scrolling! We jotted down our favorite local getaways in Texas and Nevada at the end of this blog.
 
2. Know What Car to Take
The type of car you need depends on your destination, trip type, and how many people will be traveling and take into account how likely you are to need a 4-wheel drive, high clearance, or a convertible.
If you need to rent a car, make sure you book well in advance as many other people will be traveling on Memorial Day Weekend and you don't want to miss out on a reservation. We recommend you choose unlimited mileage (unless you're absolutely positive about the length of your trip) and make sure you carry the appropriate insurance coverage.
If you're planning on using your personal vehicle, take into consideration that a road trip can be hard on a car. Before you go, you need to make sure your car is up for the challenge — the last thing you need is to break down in the middle of nowhere.
So needless to say, a great tip for a cross country road trip is to make an appointment with your mechanic so your car can get the necessary maintenance before hitting the open road.
If you plan to check your car before a road trip yourself, don't forget to inspect:
Windshield wipers
Tire pressure
Headlights
Brake lights
Turn signals
Fluids
3. Take Your Time
Taking your time means you'll have time for the spontaneous things to happen, and for some awesome unexpected experiences to take shape.
Aside from the fun moments, remember to account for other unexpected stops, in case you:
Stop for gas
Get a flat tire
Need a restroom break
Get involved in an accident
Have car issues, like an overheating engine
Need to buy food or drinks
Get stuck in traffic
While there's a chance some of these won't happen on your trip, it's always good to make extra time – just in case!
 
4. Tips for Long Road Trips with Kids
If you're going on a long road trip it's important to plan ahead for snacks and entertainment. We recommend you download your favorite podcasts or a great audio book ahead of time. We also suggest you don't forget to create a playlist so you have plenty of your favorite tunes for the open road.
If you're traveling with small children make sure you have tons of things to keep them happy during the long road trip. Activities like movies, road games, drawing tablets, and comic books can make the trip that much better.
Here are some of our favorite tips for traveling with toddlers by car:
Avoid syrupy or sticky foods on your road trip if you value your upholstery
If you're traveling with a baby in a car seat never unbuckle them to breastfeed while on the road
Do not give unsupervised rear-facing babies' bottles or finger foods
Remember that sweets make kids happy for about a minute until the high octane burst of energy can morph into an epic freak out. We recommend you pack some fruits and veggies along with some healthy, filling snacks.
 
5. Limit Liquids
Don't dehydrate the kids or yourself, but don't ignore the reality that random drinks lead to random bathroom breaks.
One sneaky way to quench thirst without having to drink too much water is to munch on some grapes. They also serve a purpose as a healthy snack, so it's a win-win!
 
6. Keep Things Clean
Everyone will stay calmer in a clutter-free car, so toss trash at every stop and tackle messes ASAP. Keep travel packs of baby wipes and plastic bags stashed in every door.
Don't neglect personal hygiene on family road trips either. Pack some dry shampoo, chap-stick, and travel-size deodorant to make sure you stay fresh.
Another important tip for a long road trip is to keep an extra change of clothes relatively handy for every traveler, as unexpected spills and messes can always happen.
 
7. Proof of Insurance and ID
A driver's license is a no-brainer, but make sure you have a hard copy of your proof of insurance!
In addition to these documents, make sure your tags won't expire during your trip and double check you have the proper registration forms.
If you need to make sure you have proper coverage while on your trip, get a free quote with us.
 
8. Traveling by Car with Your Pet
If you plan on traveling by car with a cat or a dog here's what you need to know to make sure everyone has a fun and safe trip:
Ask your vet for a copy of your pet's medical records
Schedule sufficient bathroom breaks for your pet
ID and/or microchip your pet
Make sure your hotel is pet-friendly
No matter what size your pet is we recommend they travel in a crate. You may be a safe driver but not everyone is, and in a worst-case scenario the last thing you want is for your pet to be thrown from the car.
Even crates can be thrown through windows in the course of an accident, so make sure that you tie the crate down, either on the floor of the back seat or on the seat with the seat belt. Also, remember that traveling by car with a dog or traveling by car with a cat means that you must bring sufficient pet food and water for the entire trip.
 
9. Stay Safe
If you're traveling on Memorial Day Weekend, keep in mind many people will be doing the same. We urge you to make sure that you stay alert and be mindful of other drivers so you can make sure everyone gets to their destination safely.
We also recommend you let friends or family members know where you are going. This is of high importance as you want to make sure your family and friends know where to find you in case of an emergency.
Make sure that you purchase an emergency kit and double check for jumper cables — one can never be too prepared when traveling by car. We also recommend you keep a few gallons of water in your car at all times, and if you have the room, a gallon of gas is a good idea too.
Remember to have fun and to take tons of pictures not just for your Instagram, but for your family album. Traveling on Memorial Day can become a great family tradition and road trips are about making memories, exploring and discovering new places. Take it all in, enjoy every minute of it and make the best out of every experience.
Happy road tripping, freeway pioneers!
 
Best Weekend Getaways in Texas:
There's a lot to discover in the Lone Star State. Check out some of these awesome MDW celebrations:
The Woodland's Memorial Day Weekend Celebration
One of the biggest Memorial Day events in Texas happens just north of Dallas in the city of The Woodlands, a favorite spot for Texans to visit for shopping, dining, and adventures of all varieties. 
In 2019, the annual Woodland's Memorial Day festivities kick off on Sunday, May 26 with the opening announcements and national anthem ceremony at 5 p.m., then continue with live music and conclude with an 8:55 p.m. fireworks display.
 
San Antonio City and Amusement Parks Events
Summer is the time for amusement parks and San Antonio is home to Six Flags Fiesta Texas, SeaWorld San Antonio, Splashtown San Antonio, and the San Antonio Zoo, each of which features special Memorial Day pricing and events. 
For a more traditional celebration, stop by the Armed Forces River Parade along the San Antonio River Walk and stick around after for the Memorial Day Artisan River Walk Show featuring dozens of artists and creators selling their paintings, sculptures, jewelry, and pottery.
 
Austin-area Events
On Memorial Day Weekend, check out what Austin has to offer. You can enjoy a free outdoor movie as part of the Paramount Summer Film Series, head over to the Lone Star Court Hotel for their annual "Complimentary Party with a Poptail Kickoff," or have a picnic lunch at the nearby Fall Creek Vineyards in the Texas Hill Country. 
There's also the Lone Star Jam, a two-day music festival in Austin, featuring headliners Josh Abbott Band, Granger Smith, Turnpike Troubadours, and Casey Donahue.​
 
​Memorial Day in Houston
The City of Houston boasts quite a few Memorial Day Armed Forces services and more light-hearted celebrations over the weekend.
​
Best Weekend Getaways in Nevada:
Residents of the Silver State are lucky to live near Fabulous Las Vegas. Consider heading over to Sin City for some (innocent!) Memorial Day Weekend fun:
 
2019 Las Vegas Memorial Day Weekend Concerts
2019 Las Vegas Memorial Day Weekend Free Concerts
As part of the 2019 Downtown Rocks FREE concert series, Good Charlotte will the rock Fremont Street Experience on May 24, 2019 at 9:00 p.m.
Don't miss this free show on the 3rd Street stage (at the intersection of The D, Four Queens and Fremont casino).
2019 Lake Las Vegas Memorial Day Weekend
Celebrate Memorial Day Weekend at Lake Las Vegas! There will be an incredible pancake breakfast, live music, a pet parade and fireworks at The Village.
You will be able to enjoy an incredible Fireworks Show displayed over the Lake on May 26 at 9:00 p.m. Better yet, admission will be free both May 25 & May 26 2019.
Wherever you decide to spend Memorial Day in Texas or Nevada, make sure you're properly covered with A-Abana. Get a free car insurance quote today!