Traffic Patterns in Houston Texas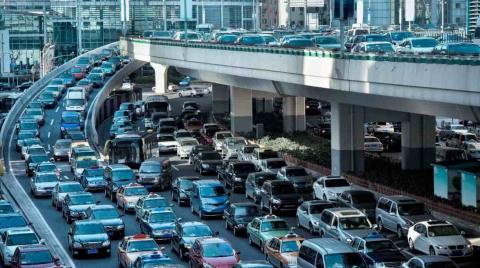 As the fourth largest city in the United States, Houston is no stranger to traffic issues. The city is very spread out and has limited public transportation system, forcing the majority of Houston's residents to commute by car. Only a small percentage of Houstonians carpool, leading to rush hour congestion on most of the major freeways. In recent years, Houston has seen numerous freeway expansion projects, providing temporary relief, but the construction never seems to keep pace with the city's expansion.
If you are coming from a different city, state, or country, you may be surprised to learn that most of the major highways in Houston have nicknames. This can often be confusing, especially when the names include a cardinal direction. For example, "Eastbound South Loop West" is an actual highway in Houston.
Here is a quick reference guide to help you navigate your way through Houston:
"Katy Freeway" refers to the part of I-10 that is west of I-45. To the east, it is known as the "Baytown East Freeway."
"Southwest Freeway" is the part of US 59 that is south of I-45. North of I-45, it is referred to as "Eastex Freeway."
I-610 is known as the "610 Loop" or the "Inner Loop," and it is broken up into stretches depending on the geographic location. "North Loop," for example, is the part of 610 that is between Highway 290 and Highway 90 just north of downtown, and "North Loop West" is more specifically the stretch between 290 and I-45.
State Highway Beltway 8, more commonly known as the "Sam Houston Parkway" (if you're on the feeder) or "Sam Houston Tollway" (if you're on the toll road) is the "Outer Loop" around the city. Like I-610, it is also broken up into directions depending on where you are geographically "West Belt," etc.
Rush Hour in Houston
Evening rush hour in Houston begins as early as 4 PM and can last to 7 PM. Morning rush hour is between 7 AM and 9 AM.
During rush hour, traffic on Houston's highways often come to a halt. The area near the Galleria Mall, the largest mall in Texas between US-59 and IH-10, is an area locals should avoid during rush hour at all costs.
The 610 Loop from I-10 to I-69 in Uptown is the most congested highway in Texas, as stated by Houston Transtar. Drivers spend 1.6 million wasted hours in traffic on this roadway per mile. The Southwest Freeway from the 610 Loop to Highway 288 comes in second.
This report calculated that Houstonians spent more than two days (50 hours total) sitting in traffic and named Houston the 37th most congested traffic city in the planet.
How can this change moving forward you may ask? Well, the main challenge according to the Texas A&M Transportation Institute is convincing drivers to carpool, ride the bus, or find new ways to reduce the number of cars to reduce the number of traffic jams.
 
Busiest Stretches of Houston Interstate
Houston motorists deserve our respect and sympathy, with 10 different sections of highway making the list of the 100 most congested arteries in the entire country. Houston, you have our condolences.
All this data was compiled by the American Transportation Research Institute survey recently released. Here we present you the fourteen most congested stretches of highway in Texas:
No. 8 – I-45 at US 59 in Houston
No. 11 – I-10 at I-45 in Houston
No. 12 – I-45 at I-30 in Dallas
No. 13 – I-10 at US 59 in Houston
No. 22 – I-610 at US 290 in Houston
No. 25 – I-45 at I-610 North in Houston
No. 28 – I-35 in Austin
No. 33 – I-10 at I-610 West in Houston
No. 49 – I-35W at I-30 in Ft. Worth
No. 59 – I-610 at US 59 West in Houston
No. 60 – US 75 at I-635 in Dallas
No. 65 – I-45 at Sam Houston Tollway North in Houston
No. 82 – I-45 at I-610 South in Houston
No. 88 – I-10 at I-610 East in Houston
Least Busy Stretches of Houston Interstate
The Texas A&M Transportation Institute has compiled a list of Texas' most congested roadways. Six of the state's worst roads can be found right here in Houston:
W Loop Freeway from Katy Freeway to Southwest Freeway
Southwest Freeway from W Loop Freeway to South Freeway
Eastex Freeway from SH 288 to IH 10
Katy Freeway from N Eldridge Parkway to Sam Houston Tollway W
Gulf Freeway from IH10 to S Loop E Freeway
North Freeway from Sam Houston Tollway N to N Loop Freeway
Busiest Non-Interstate Streets in Houston
Houston has its fair share of bustling street crossings. Here are nine of the most congested intersections in the city.
Richmond at Weslayan
Bellaire at Bissonnet/South Rice, Mykawa at Griggs/Long
Westheimer at Post Oak
Lamar/Dallas at Crawford/Avenida De Las Americas
Main/Old Spanish Trail at Kirby
Westheimer at Dunlavy, Westheimer at Shepherd
Memorial/Allen Parkway at Shepherd
North Main/Studewood/Cavalcade
Richmond and Alabama at Spur 527
Smallest Town in Texas
It turns out, not everything is bigger in Texas, the smallest town is Guerra, Texas. With a current whopping population of six residents, it makes it that much easier to get to know your neighbors.
This small town is way down south on Ranch Road 649 about 90 miles northwest of the town of McAllen in Jim Hogg County. The population of Guerra peaked in 1914 with 100 residents and contained sixteen local businesses at the time. In 1990 the population was recorded at 15, and the town served mainly as a retail point for nearby cattle ranchers.
Longest Road in Houston, Texas
Little York Road is the longest street in Houston, Texas. It runs east-west in the northern part of Harris County from Mesa Road in Houston to Fry Road in Katy. Drivers will experience 29 miles along this route, but when compared to U.S. 20, the longest road in the world (3,365 miles), Little York Road's miles seem minuscule.
 
Oldest Neighborhood in Houston
The Woodland Heights neighborhood is one of the oldest and most historic in Houston, Texas. It encompasses approximately 2000 homes in the 77009 ZIP code, and the boundaries include Pecore Street to the north, Studewood Street on the west, I-45 to the east, and I-10 to the south.
 
Preventing Heavy Traffic in Houston
There are ways every driver can prevent contributing to heavy congestion on the road. Always drive the speed limit and avoid any distractions, such as using your phone or eating food while driving. Be aware of all roadway conditions and be courteous to other drivers on the road. You never know what the situation looks like ahead of you, so remember to remain calm and always drive cautiously.
If you start to experience car problems on the road and become stalled, the City of Houston provides free towing services within a mile of your car breaking down. Simply call 713-881-3333 to access the free towing service.
Resources for Traffic Patterns in Houston
There is no doubt Houston drivers encounter some of the worst road congestion in the country. A well-informed traveler has better odds of beating the traffic. Explore these resources to help you navigate Houston's roadways. Give these options a try before getting on the road to help ensure your trip is fast and efficient:
Google Maps: Other than navigation, Google Maps is a great resource for those looking for real-time ETAs and traffic conditions, as well as those who are looking for real-time transit information.
Waze: This mobile app gives you active updates on traffic, hazards, police activity, crashes, and more. It also shows you other users along your route, who contribute to these updates by reporting incidents they experience along their drive. If traffic becomes heavily congested along your way, Waze will give you time-saving options.
You can also resource the Houston TranStar website to get real-time traffic information. Here you have access to state-of-the-art technologies that allow you to see congestion on major roadways, any major road closures, traffic incidents, and much more. This site aims to help motorists by enabling you to stay informed with the latest and most up-to-date traffic information.