Traffic Patterns in Las Vegas, Nevada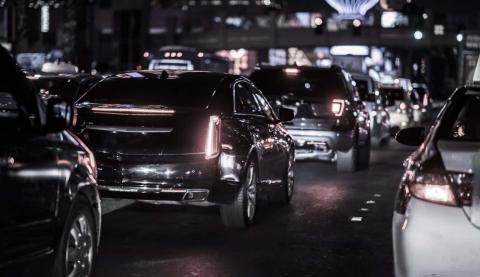 Navigating around The Entertainment Capital of the World is not difficult but thanks to giant hotel acreage, often slow traffic, and lots of people trying to explore, getting around Las Vegas can take longer than anticipated. Our best advice for driving around Vegas? Always allow extra time to get from point A to point B.
For those visiting the famous Las Vegas Strip, a mix of buses, taxis, monorails, and feet will get you most places. However, car rentals are affordable in Vegas and is recommended if you're staying away from the Strip or are keen to visit off-Strip attractions, and essential if you're planning to visit any out-of-town destinations.
Tourists, however, are one of Las Vegas' biggest concerns. The tourists keep things moving at a much slower pace since most visitors do not know their way around the city or the freeway systems as well as locals. So while they're taking pictures, looking at the majestic lights, and figuring out which exit to take, tourists inadvertently slow down traffic throughout Las Vegas.
Over the past 40 years, the population in Las Vegas has increased more than anyone would have expected. With more than 2 million residents, Las Vegas is quickly becoming one of the most populated cities in the United States. And with such growth, the traffic seems to be getting worse as Vegas has seen a rising number of car accidents.
 
Rush Hour in Las Vegas
The Las Vegas streets get very congested during morning hours (7am-9am) and evening rush hours (4pm–6pm), as well as at weekends. Traffic becomes heavy in tourist areas after 4:00 p.m. The Strip is slow-going most of the time and turns into a virtual car park when the town is busy.
Locals who are employed outside of the hospitality industry clog the merge lanes on the I-215 between 7:30 a.m-8:30 a.m. and again at 4:30 p.m.-5:30 p.m. — it's inevitable.
 
Busiest Stretches of Las Vegas Interstate
The I-15 is the most frustratingly congested road in Las Vegas. The nearly $1-billion, 3.7-mile-long widening of Interstate 15 in downtown Las Vegas, dubbed Project Neon, may not have the flashy lights of the Strip but has its own cachet as the state of Nevada's largest and most expensive public works project.
Project Neon will improve the busiest stretch of highway in Nevada. With 300,000 vehicles daily (or one-tenth of the state population) and 25,000 lane-changes per hour, the I-15 experiences about three auto accidents per day. According to NDOT, traffic through the corridor is expected to double by 2035.
The upgrade will connect carpool lanes on U.S. Highway 95 to the Interstate 15 express lanes with that signature flyover bridge. The project will also create direct access carpool ramps, a new interchange called Neon Gateway, reconstruct the Charleston Boulevard interchange, and extend Grand Central Parkway over the Union Pacific Railroad tracks.
 
Busiest Street in Las Vegas
The intersection of Las Vegas Boulevard (the formal name of The Strip) and Tropicana Avenue has been cited as the busiest street intersection in the world. The streets are wide, the traffic is heavy, and it's busy 24/7.
Crossing this intersection on foot at ground level is simply not possible: all sides are fenced and pedestrian can only get across by using the overpass bridges that are provided, some with escalators.
 
Worst Intersections in Las Vegas
According to statistics, the most common reason for car accidents in Las Vegas is distracted driving and speeding. If you are a driver in Las Vegas, avoid the intersection of Charleston Blvd and Lamb Boulevard. This intersection has been deemed the most dangerous in Las Vegas; local news reports that more accidents occur at this intersection than any other intersection in the city. 
Sahara Avenue and Rainbow Boulevard is a close second, followed by the entire stretch of Tropicana Avenue from east to west. Avoid these streets and intersections as often as possible. And if you do have to drive through them, we suggest you do it with extreme caution.
 
History of Fremont Street
Before The Strip became home to pretend volcanoes, dancing fountains, and one of the highest Ferris Wheels in the world, there was the five block area in downtown Las Vegas that was the center of gambling in the United States: Fremont Street, or as some call it: the Old Las Vegas Strip.
The Old Las Vegas Strip is grittier than the new Strip, but less expensive, more laid back, and in many cases, a lot more fun.
Visitors of Fremont Street can still find $5 blackjack, $2 fried Twinkies, cheap drinks, a zip line, street performers, and a constant party atmosphere. All of this action happens under a 1,500-foot-long video screen canopy that contains 12.5 million LED lights.
The five block stretch of Fremont Street runs from Main Street on the east to North Las Vegas Boulevard to the west. It is also home to ten casinos and six hotels.
Unlike the longer, more glamorous Vegas Strip to the south, Fremont Street is walkable with the long canopy providing shade during the day and a dazzling light and sound show at night.
 
Preventing Traffic in Las Vegas
It's not hard to find your way around Vegas. Due to thousands of daily visitors trying to get to the city's best restaurants, shopping, shows, and nightclubs, navigating The Entertainment Capital of the World takes longer than you'd think –  especially if you're driving.
Luckily, here are a few tips to follow when trying to avoid high traffic areas in Las Vegas:
Use parallel roads: Las Vegas Boulevard, aka The Strip, is undoubtedly the most popular road in the city. If you don't mind skipping the famous road, you can use any of the roads parallel to it to bypass the traffic including Paradise Road and Kaval Lane on the eastern side, and S. Industrial Road, Frank Sinatra Drive, and Dean Martin Drive on the west end.
Ride the Las Vegas Monorail: The 4-mile Las Vegas Monorail stops at some of the major Las Vegas resorts along the Strip. With various ticketing options, you can find the perfect option for your Vegas Trip. Some stops include the MGM Grand Station and The LINQ/Harrah's Station.
Take Desert Inn Road: If you're checking out the local scene in Las Vegas you can bypass the Strip altogether and take Desert Inn Road. This road, which is one of the longest streets running from both sides of the valley, will get you to your destination in no time. The 2-mile "Superarterial" section between Valley View and Paradise will also avoid traffic by speeding you over the interstate and under the Strip.
Drive on the Beltway Bypass: Avoid the Strip and take the Beltway Bypass. The 53-mile 215 Beltway wraps three-quarters of the way around the valley, allowing easy access to the outskirts of town.
Use the Free Tram System: For a free public transportation alternative, consider taking the Las Vegas tram! With connections from Bellagio to City Center, Mirage to Treasure Island, and Excalibur to Luxor, you will make it to your destination without paying a dime.
Resources for Traffic Patterns in Las Vegas
There is no doubt that you are bound to hit traffic while in Sin City, but a well-informed traveler has better odds of beating the traffic. Explore the below resources to help you navigate Las Vegas roadways. Give these options a try before getting on the road to help ensure your trip is fast and efficient:
We must learn to navigate our way through Las Vega's traffic. Our best advice is to avoid anything that could distract you while driving. Be sure to look out for pedestrians, bicycles, motorcycles, and those famous tourists that come to this mecca for a chance to hit it big and go home rich. Most importantly, learn the roads, if there's an accident on the road, you need to have a "Plan B" as a backup. The most important thing you can do in Vegas is to buckle up! It's going to be a long and bumpy ride.
If you need some further tips on how to plan an amazing road trip to Las Vegas don't forget to check out our blog! We not only provide you with great tips, but also share with you how to get the cheapest auto insurance available.  
Remember to always drive safely and, most of all, make sure you are insured!